Do not cull 70% of our Badger Population
Badgers are a protected species.
The Government claims a badger cull will prevent livestock damage by reducing the spread of tuberculosis to cattle. However, the proportion of cases of tuberculosis in cattle attributable to badgers is very small and the Government itself admits that at best the cull is likely only to achieve a 12-16 percent reduction in tuberculosis cases in cattle and only after 9 years. This leaves, at best, 84% of the Btb problem remaining in cattle.
We consider that the Government has given insufficient consideration to alternative non-lethal solutions including stricter controls on cattle movement and testing, and the development and use of existing vaccines for badgers and cattle. The Government should not allow a cull of badgers in preference to alternative options which have a far greater chance of reducing the spread of bovine tuberculosis.
Conservatives Against Fox Hunting working within the Conservative Party to advance animal welfare

Randomised Badger Culling Trial
The Defra report on the Governments Policy on Bovine TB and Badger control in England Dec 2011 refers to the, Randomised Badger Culling Trial, RBCT a government commissioned scientific study, over 50 times yet completely ignore their conclusions..that a Badger Cull will make NO difference...
We refer you to Recommendations and Conclusions pages 23 and 24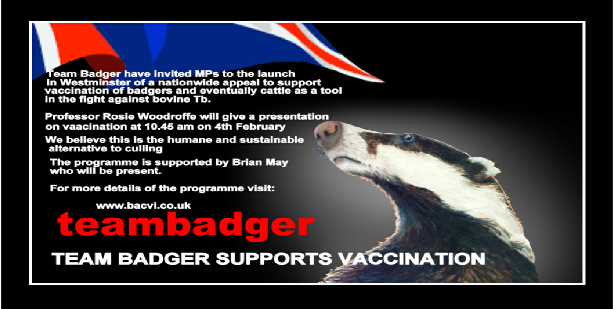 Blue Badger is a member of Team Badger which is a coalition of national, local and grass roots animal welfare organisations representing millions of compassionate citizens. We reject the government's policy of badger culling as unsound, unscientific and unacceptable.
We believe the most effective and legitimate way to oppose the shooting of badgers is through peaceful and legal protest supported by reasoned argument, scientific facts and legal challenge.
We are convinced that the long-term control of tuberculosis in cattle can be achieved by the comprehensive application of a range of measures without resorting to the culling of wildlife. You can read more at the Team Badger website here.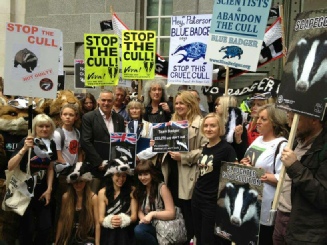 Badger cull myths exposed in new report June 1st 2013
Blue Badger Article: Conservative Home
Blue Badger Article on the Badger Cull published on Conservative Home can be found following link above.
—------
Anne Main MP leads calls for scrutiny of badger culls
20 Conservative MP's sign letter to Owen Patterson
29th October 2013
Anne Main MP calls on Secretary of State to commit to publishing independently assessed evidence from the pilot badger culls, once the culling in the pilot areas has finished.
Letter to Secretary of State, Owen Paterson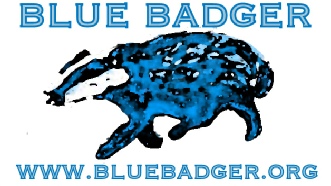 Petitions on council websites are in place across England and can be accessed via the Brave Badgers website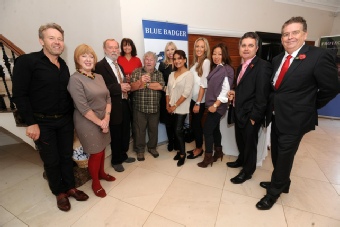 Blue Badger and Bill Oddie at the CWO event in Surrey
Brian May launches Badger And Cattle Vaccination Initiative Launch in Westminster, attended by MPs and Team Badger, 4th February 2014
Badger And Cattle Vaccination Initiative website and link for donations to help vaccinate badgers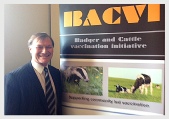 David Amess MP at the BACVI launch
Bill Oddie & Blue Badger talk at Conservative Women's Organisation
Bill Oddie was a fellow Speaker at the Conservative Women's Organisation's event in Surrey on November 8th 2013..
We are very grateful to the Chairwoman of Esher and Walton Conservative Association for her kind invitation for Blue Badger to speak before the committee and guests at the lunch event on our wildlife protection campaigns.
Our Blue Badger Founder spoke against the badger cull before the guests for 10 minutes which included the Mayor of Elmbridge and the Conservative Leader of Elmbridge Council.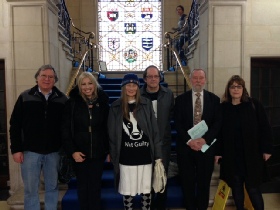 Photo shows representatives of Surrey Badger Groups, the Founder of Blue Badger, Dave Williams, the Chairman of the Badger Trust and Councilor Christine Elmer, of Blue Badger at Surrey County Council after attending the cabinet meeting which included the Surrey petition against badger culling in Surrey.February 12th 2014
Tories join opposition to badger cull as MPs call for vote
A new Bow Group report released on the 28th February 2014 renews calls to stop the badger cull and reveals the ineffectiveness of the culls
Breaking News: Together with our Team Badger partners, we have secured a backbench debate to be held in the House of Commons on Thursday 13th March. We urgently need you to contact your MP to ensure they attend the debate and support our badgers.